The human body is designed to care for and heal itself. As a Doctor of Chiropractic, Dr. Erin Rosen works with patients to help them identify the patterns and stressors that interfere with the body's ability to function in its optimal state. The nervous system plays the most important role by communication and controlling the functions of the body. The home of the nervous system is the skeletal system. Therefore, the goal of Chiropractic care is to restore health by removing disruptions in and between the nervous system and the skeletal system.
Dr. Erin Rosen has degrees in both Chiropractic and Kinesiology and has also spent her life studying different aspects of health firsthand, as a competitive athlete, yoga teacher, and nutritional consultant. As a 2nd generation Chiropractor, she uses these tolls to expand her craft and to assess the unique needs of each of her patients. She specializes in Sacro Occipital Technique (SOT), and indicator-based system which tailors care to the patient's specific spinal and cranial patterns. This technique uses both low force and high velocity adjustments, making it a safe and adaptable approach for humans and animals across a wide variety of conditions. In addition to years of practicing SOT, Dr. Erin Rosen has developed her craft to include soft tissue work, pre-natal/post-partum care, pediatrics, and neurological conditions, allowing her to work with more advanced health issues, including: pregnancy, sports injury, TMJ/TMD, acute pain, headache, visceral dysfunction, extremity problems, etc.
With nearly 10 years of practice, Dr. Erin Rosen has created a comfortable speace to empower her patients to achieve the level of health their bodies are capable of.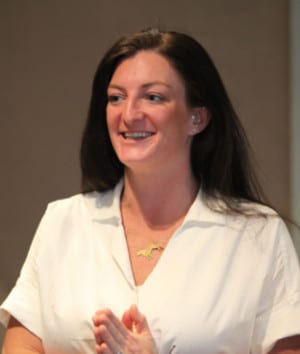 Education
Doctor of Chiropractic - Life University 2013
Bachelor in Science in Kinesiology
University of Massachusetts of Amherst 2008
Institute for Integrated Nutrition
Certified in Viniyoga
200-hour Kundalini Yoga
Certified in Prenatal and Pregnancy Yoga
Experience
2004-06 Woman in Leadership Scholarship Babson College
Research Scholarship Recipient at Life University
Assistant Instructor for the ICPA
Lead instructor for Drs' Rosen Pediatric Seminars
what others say about dr. erin rosen
I recommend Dr. Marty Rosen and his daughter Dr Erin Rosen completely! They are knowledgeable, skillful and extremely competent. I have been with this practice my entire life, and am very thankful for the many times they have carefully and patiently put my body back together and enabled me to heal after an injury, or when I just knock something out of place and am in tremendous pain. They have helped me every single time without fail. I feel very lucky to have them as such a tremendous health resource in my life. Thank you both!
I trust both Dr. Marty and Dr. Erin Rosen with my health and well being. I have being going to Wellesley Chiropractic for many years now and can say wholeheartedly that it has made a huge difference in my life. When Dr. Erin joined, I was so pleased with her skill and ability that I see her as often as Dr. Marty. In fact, I've had such a great experience I trusted them with the care of my newborn granddaughter! After just two adjustments, she went from sleeping only 4 hours per night to between 10-12…..at only 8 weeks of age! Now, with another grandchild on the way, I will certainly bring him/her for pediatric care.
My family have been cared for by Wellesley Chiropractic for 19 years. We have been grateful for, and blessed by their expertise in their field, their compassion and dedication to their patients, and their willingness to take the time necessary to talk through any concerns. In our family alone they have treated a newborn with serious cranial issues, concussions, learning disabilities and an injured hip. We were thrilled when Dr Erin Rosen joined Dr Marty in practice and primarily seek her care now. Her patience, talent and humor ensure that a patient receives all they can from every adjustment . Dr Erin is fine tuned not only to nuances of the spine, but has a remarkable gift for asking specific questions to bring light possible causes of issues. All three of my children have had their first chiropractic visit before their one week newborn visit. I have recommended Wellesley Chiro to several friends and all have been grateful for the care they received. I cannot imagine my family's health without the care of Dr Erin and Dr Marty.
Drs. Marty and Erin Rosen are excellent! We have been seeing them for years and have been very happy with our experience. We also have been bringing our kids there since they were born. Our kids have been very healthy and a lot of that is from the great care they have received at Wellesley Chiropractic Office.
We started going to see Dr. Martin Rosen in 2012, and transitioned to mostly seeing Dr. Erin Rosen about two years ago. Dr. Martin Rosen completely eliminated my TMJ (Dr. Erin has kept it at bay as well), and their work with our kids has been wonderful. It's very hard to find innovative thinkers who view patients as individual human beings and not as checklists, and from the office staff to the doctors themselves, we've found this practice to be a major component in managing non-checklist issues.
I've been a patient at Wellesley chiropractic for at least twenty years! I am a former professional dancer and dance teacher and I know at 65 I would not still be dancing without first Marty taking care of me, and now Erin. They are both the best at what they do and I recommend highly.
Dr. Erin Rosen has made such a huge difference in how my body cooperates with me. She's been encouraging and straight with me from start to (eventual) finish. I always leave her office stronger than when I went in. I couldn't recommend her more highly.
I initially started seeing Dr. Erin Rosen after my husband had come home from an oversees business trip and acquired a parasite of some sort that the western medicine infectious disease specialist did not want to see him for because his symptoms were often subtle and erratic. They did some blood work but weren't really interested in digging deeper. He knew there was something wrong and Dr. Marty knew there was something wrong. It took some time and patience but Dr. Marty did it! Along the way, my husband and I realized just how beneficial chiropractic care is and we decided to have the rest of the family seen at Wellesley. We primarily see Dr. Erin while my husband still sees Dr. Marty. My son had awful allergies and asthma-GONE! We thought we were heading into surgery for one of my daughters knee issues but with regular visits to Dr. Erin we avoided that! My other daughter struggled with some hormone issues but says she has never felt better or had more energy. Whenever any of them are under stress or feeling unwell they ask for an appointment. As for me, I decided to be seen initially for low back pain and re-occurring headaches but after learning so much from Dr. Erin we pretty much see her for everything from colds to injuries and everything in between! As a whole, my family is healthier and happier than ever! I can't forget Nancy and her infectious laugh, super efficient management skills and loving bits of motherly wisdom! Thank you Wellesley Chiropractic!